We are specialists in Diseases of the Skin, Hair, and Nails, treating moles, skin cancer, psoriasis, acne, rashes, alopecia, lupus, and warts, as well as many other skin conditions.
While not every mole needs to be biopsied, our practice examines moles with normal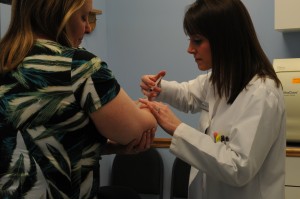 magnification as well as with the use of Dermoscopy, if indicated.  A Dermoscope is an instrument which uses polarized light. When used along with specialized training, it allows us to interpret changes in pigment below the skin surface.   We use these observations, while factoring in any concerns that you might have, to decide which moles need to be sampled.  We recognize that patients want to actively participate in their health care and thus, should there be a need, we send you home with instructions on how to do a mole self-evaluation.
The same holds true for other conditions.   We always make an effort ensure that you are well informed of what we did at your visit.   This includes showing you clinical examples from textbooks, giving you handouts, and at times, providing written explanations of your diagnosis.
We always want you to leave our practice feeling that you have a good understanding of what we talked about at your visit.   To that end, we strongly encourage you to call us with any questions or if you are not improving, and we have staff dedicated to addressing these calls.   As we develop our new Patient Portal in our electronic record, we will be able to streamline this process.
We serve several counties, both in New York and in Pennsylvania.   We recognize that it can take months to be seen by a Dermatologist in our area.  Thus, for our established patients we have the Urgent Care Clinic.  Urgent Care appointments are especially designed as "squeeze in" spots where we can address that one particular worrisome mole or bothersome rash.